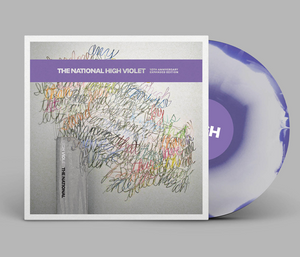 Description
The National will be releasing a 10-year anniversary expanded edition of their 2010 album High Violet, on 19th June 2020. Originally released in May 2010, the critically acclaimed fifth studio album features the now-classics "Terrible Love", "Bloodbuzz Ohio", "England", and perennial show closer, "Vanderlyle Crybaby Geeks." In addition to the 10 original tracks, the triple LP package includes a third LP which includes tracks never before available on vinyl, including "Wake Up Your Saints," an alternate version of "Terrible Love", "Walk Off" and more.
Tracklist
1. Terrible Love
2. Sorrow
3. Anyone's Ghost
4. Little Faith
5. Afraid Of Everyone
6. Bloodbuzz Ohio
7. Lemonworld
8. Runaway
9. Conversation 16  
10. England
11. Vanderlyle Crybaby Geeks
12. Terrible Love (Alternate Version)
13. Wake Up Your Saints
14. You Were A Kindness
15. Walk Off
16. Sin-Eaters
17. Bloodbuzz Ohio (Live On The Current)
18. Anyone's Ghost (Live at Brooklyn Academy Of Music)
19. England (Live at Brooklyn Academy Of Music)
We are only a small shop with limited space. However, we have accounts with all the major suppliers and more, so drop us a line using the form below and let us know if you want this item or anything else that we currently don't have in stock. If the item is still being pressed, we'll order you a copy in, but if for any reason we can't get hold of something, we'll let you know.
Please note: the prices listed are based on the product the last time we sold it and are subject to change. We do our best to source everything at the best price possible, but we are restricted to reflect pricing provided by our suppliers.
---