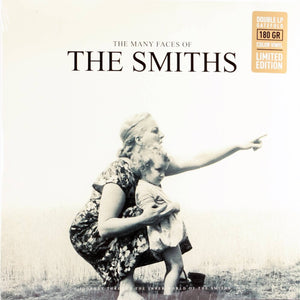 The Many Faces Of The Smiths
Regular price
$26.00
$0.00
Unit price
per
Tax included.
Shipping
calculated at checkout.
Tracklist
The Smiths - Hand In Glove
The Smiths - The Boy With The Thorn On His Side
The Smiths - This Charming Man
The Smiths - Heaven Knows I'm Miserable Now
The Smiths - This Night Has Opened My Eyes
The Smiths - What Difference Does It Make?
The Smiths - Pretty Girls Make Graves
The Smiths - Miserable Lie
The Smiths - Reel Around The Fountain
The Smiths - Still Ill
The Smiths - Handsome Devil
The Smiths - Those Things Take Time
William Fitzsimmons - Please, Please, Please Let Me Get What I Want
Trespassers William - There Is A Light That Never Goes Out
Tanya Donelly - Shoplifters Of The World Unite
Dala - Last Night I Dreamt That Somebody Love Me
Katy Goodman - What She Said
Chikita Violenta - Some Girls Are Bigger Than Others
Mike Viola & The Section Quartet - How Soon Is Now?
Joy Zipper - What Difference Does It Make?
Douf Martsch - Reel Around The Fountain
The Rest - Stop Me If You Think You've Heard This Before
Sixpence Non The Richer - I Won't Share You
We are only a small shop with limited space. However, we have accounts with all the major suppliers and more, so drop us a line using the form below and let us know if you want this item or anything else that we currently don't have in stock. If the item is still being pressed, we'll order you a copy in, but if for any reason we can't get hold of something, we'll let you know.
Please note: the prices listed are based on the product the last time we sold it and are subject to change. We do our best to source everything at the best price possible, but we are restricted to reflect pricing provided by our suppliers.
---