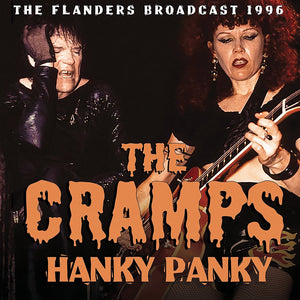 Tracklist
Mad Daddy
Rock On The Moon
The Way I Walk
Hanky Panky
Hangup
Fissure Of Rolando
Papa Satan Sang Louie
Big Black Witchcraft
It Thing Hard On
Prinitive
Caveman
Let's Get Fucked Up
Dames Booze Chains Boots
TV Set
Psychotic Reaction
Wrong Way Ticket
Tear It Up
What's Inside A Girl?
Interview
Her Love Rubbed Off
Interview
Can Your Pussy Do The Dog?
We are only a small shop with limited space. However, we have accounts with all the major suppliers and more, so drop us a line using the form below and let us know if you want this item or anything else that we currently don't have in stock. If the item is still being pressed, we'll order you a copy in, but if for any reason we can't get hold of something, we'll let you know.
Please note: the prices listed are based on the product the last time we sold it and are subject to change. We do our best to source everything at the best price possible, but we are restricted to reflect pricing provided by our suppliers.
---