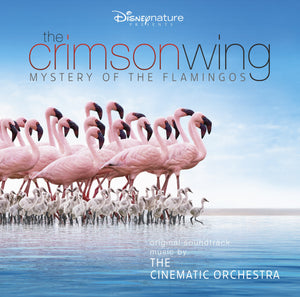 The Cinematic Orchestra with the London Metropolitan Orchestra - The Crimson Wing - Mystery of The Flamingoes (Coloured Vinyl)
Description
This is a Record Store Day 2020 product. Please contact us if you would like us to request a copy of this for RSD. RSD rules apply, this will be available from 8am on Saturday 29th August in-store or 6pm online, on a first come, first served basis - we cannot reserve any stock.
Released for the first time on vinyl – The Crimson Wing – Mystery of The Flamingos by the Cinematic Orchestra.Originally released in 2009 on CD and download, Record Store Day will see the soundtrack issued for the first time on 2LP coloured vinyl - pink! The soundtrack accompanied The Crimson Wing: Mystery of the Flamingos a 2008 British-American nature documentary that explored the massive gathering of lesser flamingos in Tanzania.It was the very first movie released under the Disneynature label.In what may have seemed an unusual move at the time the producers of the film wanted to find a popular artist they liked and combine them with the truly striking imagery the film would produce.This led them to the critically acclaimed British jazz-electronic group Cinematic Orchestra who would go on to compose and perform the soundtrack.Produced by The Cinematic Orchestra and Steve McLaughlin with score orchestration by Teese Gohl it was performed at Air Lyndhurst by The Cinematic Orchestra and the London Metropolitan Orchestra.A deeply evocative soundtrack the multi-layered instrumentation captures beautifully the story of these mysterious creatures.In 2019 the track "Transformation" is being used as the accompanying music for the Ford Focus.Watch advert here: https://www.youtube.com/watch?v=ZrcxA2nUJTM&feature=emb_logo.In December 2012, the song "Arrival of the Birds"" from the soundtrack for The Crimson Wing: Mystery of the Flamingos appeared in a commercial for the women's perfume Acqua di Gioia by Giorgio Armani.The song also appears at the end of the 2014 film The Theory of Everything and in the short film Together Apart from the Cornetto Cupidity Series.A fan made video of The Arrival Of The Birds and Transformation has had over 27 million Youtube views https://www.youtube.com/watch?v=n88MReEC27k.Spotify Arrival of the Birds – 26 Million, Transformation – 5 Million
We are only a small shop with limited space. However, we have accounts with all the major suppliers and more, so drop us a line using the form below and let us know if you want this item or anything else that we currently don't have in stock. If the item is still being pressed, we'll order you a copy in, but if for any reason we can't get hold of something, we'll let you know.
Please note: the prices listed are based on the product the last time we sold it and are subject to change. We do our best to source everything at the best price possible, but we are restricted to reflect pricing provided by our suppliers.
---