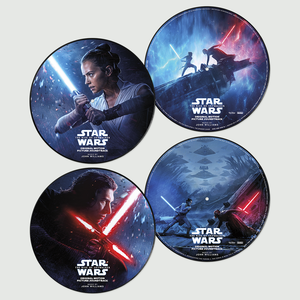 Description
Director J.J. Abrams once again takes viewers on an epic journey to a galaxy far, far away with Star Wars: The Rise of Skywalker, the riveting conclusion of the seminal Skywalker saga, where new legends will be born and the final battle for freedom is yet to come. Features a returning cast that includes Carrie Fisher, Mark Hamill, Adam Driver, Daisy Ridley, John Boyega, Oscar Isaac, Anthony Daniels and Billy Dee Williams and a powerful score by Academy Award winning composer John Williams. Limited Edition Picture Disc pressing.
Tracklist
Fanfare And Prologue
Journey To Exegol
The Rise Of Skywalker
The Old Death Star
The Speeder Chase
Destiny Of A Jedi
Anthem Of Evil
Fleeing From Kijimi
We Go Together
Join Me
They Will Come
The Final Saber Duel
Battle Of The Resistance
Approaching The Throne
The Force Is With You
Farewell
Reunion
A New Home
Finale
We are only a small shop with limited space. However, we have accounts with all the major suppliers and more, so drop us a line using the form below and let us know if you want this item or anything else that we currently don't have in stock. If the item is still being pressed, we'll order you a copy in, but if for any reason we can't get hold of something, we'll let you know.
Please note: the prices listed are based on the product the last time we sold it and are subject to change. We do our best to source everything at the best price possible, but we are restricted to reflect pricing provided by our suppliers.
---