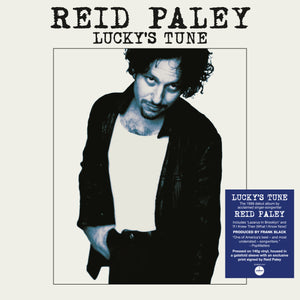 Reid Paley - Lucky's Tune
Regular price
$30.00
$0.00
Unit price
per
Tax included.
Shipping
calculated at checkout.
Description
• Hailing from Brooklyn, New York, Reid Paley is an acclaimed singer-songwriter known for his unique primal yet evocative vocal style and riotous songs.
• After releasing his debut single 'Time For You' on Sub Pop in 1997, Paley teamed up with producer and Pixies mastermind Frank Black to record the album 'Lucky's Tune'.
• Accompanying himself with just his trusty 1955 Gretsch Archtop (through a 1965 Fender Super Reverb), Paley blasts through 13 songs including stand outs 'Lazarus In Brooklyn' and 'If I Knew Then (What I Know Now)'.
• "What? You want some kind of description of the artist and his music? Just f*****g listen to the guy and enjoy his prowess." – Frank Black
• First released in 1998, the album is now finally issued on vinyl, pressed on 140g vinyl, housed in a gatefold sleeve with new artwork and a print of the cover artwork signed by Reid Paley himself.
• "One of America's best - and most underrated - songwriters." – PopMatters
• "A jarring reminder of what rock'n'roll once was and could be again." - The Washington Times
Tracklist
1. LAZARUS IN BROOKLYN
2. TAKE IT AWAY
3. IF I KNEW THEN (WHAT I KNOW NOW)
4. MY ANGEL
5. VENUS OF AVENUE A
6. TIME FOR YOU
7. MY BOYISH HEART
8. THE LONG HAUL
9. SABATINI'S LAMENT
10. GUARDIAN OF YOUR HEART
11. SURPRISE
12. ANOTHER PERSONAL TRAGEDY
13. THE BEST OF ALL
We are only a small shop with limited space. However, we have accounts with all the major suppliers and more, so drop us a line using the form below and let us know if you want this item or anything else that we currently don't have in stock. If the item is still being pressed, we'll order you a copy in, but if for any reason we can't get hold of something, we'll let you know.
Please note: the prices listed are based on the product the last time we sold it and are subject to change. We do our best to source everything at the best price possible, but we are restricted to reflect pricing provided by our suppliers.
---