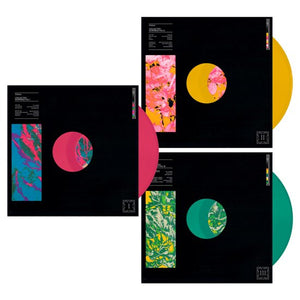 Foals - Collected Reworks (3LP Mint Green, Yellow, Pink Vinyl)
Regular price
$38.00
$0.00
Unit price
per
Tax included.
Shipping
calculated at checkout.
Description
From their early days hosting parties in Oxford through to the huge success of their two-part 'Everything Not Saved Will Be Lost' album, Foals have consistently explored their interest in dance and electronica. Now the band chart the most essential remixes from their career so far as they share the new remix package 'Collected Reworks Vol 1'.

The tracks featured on 'Collected Reworks', are a compilation from an eclectic range of artists who have uncovered new angles to Foals' discography. It includes one of their earliest remixes, from Ewan Pearson who blends Balearic bliss into 'Olympic Airways', as well as Solumun's huge version of 'Late Night', which has been viewed over 50 million times at YouTube. Another standout moment is Hot Chip's inventive interpretation of 'My Number'.

'Collected Reworks Vol. 1' has been launched with Hot Since 82's brand new remix of 'Into The Surf'. The tech house producer / DJ behind 'Buggin'' and 'Restless' subverts the track from its original desolate beauty into something fresh and invigorating. The relentless driving beat maximises its energy throughout its eight minute duration, while its progressive leanings are given some unexpected throwback flavour with '80s style sax.
Tracklist
Vol. 1

1 My Number (Hot Chip Remix)
2 Mountain at My Gates (Alex Metric Remix)
3 Into the Surf (Hot Since 82 Remix)
4 The Runner (RÜFÜS DU SOL Remix)
5 In Degrees (Purple Disco Machine Remix)
6 Mountain at My Gates (SebastiAn Remix)
7 Late Night (Solomun Remix)

Vol. 2

1 Inhaler (Tom Vek's Wheezemix)
2 What Went Down (Haxan Cloak Remix)
3 Wash Off (KUU Remix)
4 Hummer (Surkin Remix)
5 Mountain at My Gates (Jono Ma Jagwar Ma Mix)
6 What Went Down (Bandwidth Remix)
7 Miami (Lissvik Remix)
8 Night Swimmers (Mura Masa Edit)

Vol. 3

1 My Number (Totally Enormous Extinct Dinosaurs Remix) [Extended]
2 Give It All (Lindstrom) [Remix]
3 Dreaming Of (Joe Corti Remix)
4 Balloons (Kieran Hebden Version)
5 Tron (Kieran Hebden Version)
6 Spanish Sahara (Mount Kimbie Remix)
7 Late Night (Koreless Purple Cowboy Remix)

We are only a small shop with limited space. However, we have accounts with all the major suppliers and more, so drop us a line using the form below and let us know if you want this item or anything else that we currently don't have in stock. If the item is still being pressed, we'll order you a copy in, but if for any reason we can't get hold of something, we'll let you know.
Please note: the prices listed are based on the product the last time we sold it and are subject to change. We do our best to source everything at the best price possible, but we are restricted to reflect pricing provided by our suppliers.
---