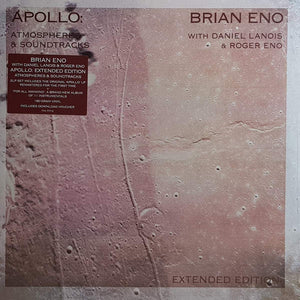 Brian Eno - Atmospheres & Soundtracks (2 LP set)
Regular price
$29.00
$0.00
Unit price
per
Tax included.
Shipping
calculated at checkout.
Tracklist
1. Under Stars 
2. The Secret Place 
3. Matta 
4. Signals 
5. An Ending (Ascent) 
6. Under Stars II 
7. Drift 
9. Silver Morning 
10. Deep Blue Day 
11. Weightless 
12. Always Returning 
13. Stars 
14. The End Of A Thin Cord 
15. Capsule 
16. At The Foot Of A Ladder 
17. Waking Up 
18. Clear Desert Night 
19. Over The Canaries 
20. Last Step From The Surface 
21. Fine-grained 
22. Under The Moon 
23. Strange Quiet 
24. Like I Was A Spectator 
We are only a small shop with limited space. However, we have accounts with all the major suppliers and more, so drop us a line using the form below and let us know if you want this item or anything else that we currently don't have in stock. If the item is still being pressed, we'll order you a copy in, but if for any reason we can't get hold of something, we'll let you know.
Please note: the prices listed are based on the product the last time we sold it and are subject to change. We do our best to source everything at the best price possible, but we are restricted to reflect pricing provided by our suppliers.
---