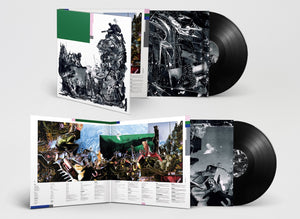 Tracklist
1. 953
2. Speedway
3. Reggae
4. Near DT,MI
5. Western
6. Of Schlagenheim
7. bmbmbm
8. Years Ago
9. Ducter
We are only a small shop with limited space. However, we have accounts with all the major suppliers and more, so drop us a line using the form below and let us know if you want this item or anything else that we currently don't have in stock. If the item is still being pressed, we'll order you a copy in, but if for any reason we can't get hold of something, we'll let you know.
Please note: the prices listed are based on the product the last time we sold it and are subject to change. We do our best to source everything at the best price possible, but we are restricted to reflect pricing provided by our suppliers.
Customer Reviews
17/08/2021
Richard R.

United Kingdom
A solid 9.
OK, so after a fantastic Sunday afternoon drinking coffee in Wax and Beans (what better way to relax?) I left with this LP. Black Midi are not unknown to me, but I have until now not snuggled up with Schlagenheim. I'm glad I did now. So this is a sound that morphs Kraftwerk, The Cool Greenhouse and elements of the genius that is Daniel Johnstone (who was a family friend actually). The opening tracks mugs you, I mean it actually pulls your pants down. It's noisy and upfront. However, that is not to say that Black Midi don't have their own sound, they certainly do, it's jagged, it's shouty, it's thought provoking music. At times it's quite understated before finally pulling you headlong into a tempest of noise, but at the same time it's very intelligent music. None of your tuneless high school band here. And of course I could pull similarities to W.H. Lung, only in ethos though, their respective sounds go in two totally different directions, but if you've listened to the former you'll understand my stance here. Two young, energetic UK bands doing things their own way. And taking music in surprising and enjoyable new ways. What would I give Schlagenheim out of ten? A solid 9.
---